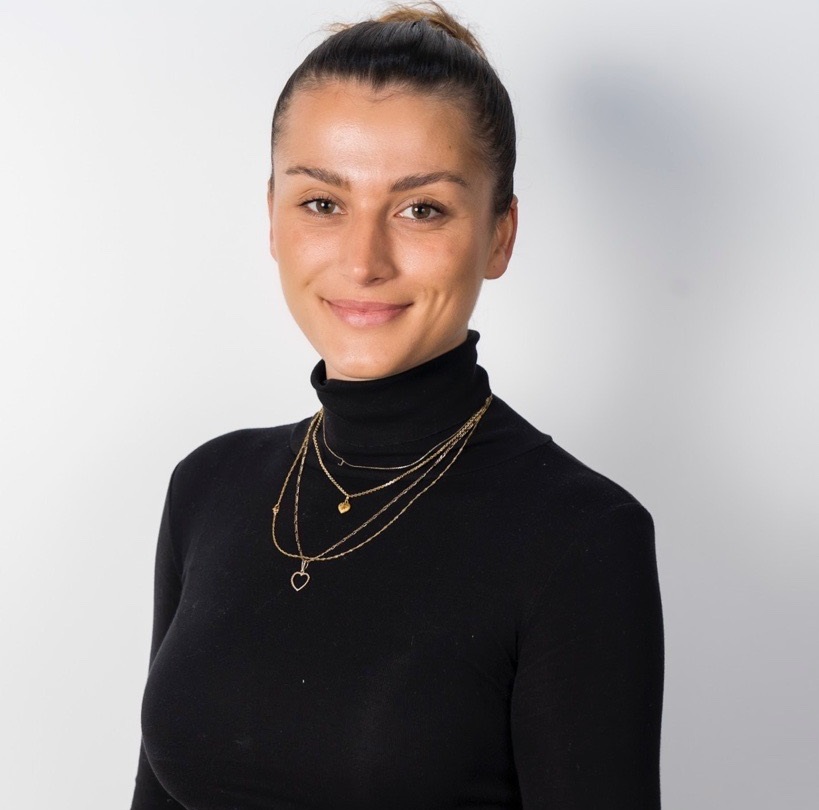 Lauren Rice, ANZ Marketing Specialist
6:00AM
I'm awake! Well kind of… I get up early at my house in Enmore, grab a coffee, and head to 12RNDS boxing gym in Newtown. I find starting my morning with intense physical exercise sets the tone for the day, allowing me to feel energised and more productive (Coffee also helps!).
7:00 AM
Once I return home from the gym, I take my Staffy x Lab for a 5km run because if I don't, he'll make sure I know about it! 
8:00 AM
Breakfast time! I'd be lying if I said I didn't have another coffee. Usually, at this time I would be walking to Newtown station to begin my daily commute to work which takes approximately 20 mins however due to the inevitable I have been working from home for the majority of the year, which is not too bad because now, it only takes me 1 minute to get to my office!
8:30 AM
I begin work most days at 8:30 AM allowing myself 30 minutes to check my emails/calendar and review my OneNote to-do list. My manager and I use OneNote as a central point for all necessary information and actions, so we are up to date. This half-hour is important as I work with Adobe employees who are based in India, the USA, and Singapore and due to time difference, they send emails when I've clocked off for the day, so my inbox is generally full when I check it in the morning. 
9:00 AM
My manager and I generally have an hour catch up to run through our OneNote, reviewing priorities and actions for the day. This is a very useful tool to keep tabs on what is occurring across our workstreams and to ensure we are both accountable for our deliverables. This has been pivotal for me due to not having the ability to reach over in the office and quickly discuss anything. It also has been a great way to regularly connect and get to know each other. 
10:00 AM
On to the next meeting…A big part of my role is working with our Adobe Customer Solutions team which involves organising and executing Marketing campaigns for Australia and New Zealand. Due to the high capacity, I must regularly meet up with them to make sure we are on track, and they have everything they need from me which includes a contacts list and campaign assets. We use a platform called Workfront which allows me to upload and review the status of each campaign we have/plan to execute. 
11:00 AM
In my role, I am fortunate enough to work with incredible external agencies. Each Tuesday I catch up with the team as well as our distributing partner to brief, develop, discuss and get updates on all the campaign activities we are running with them, which is A LOT. I have found this part very rewarding as I can have the opportunity to manage a small team and also, get insight into sales functions and processes.
12:00 PM
By this time, I am ravenous. I make a conscious effort throughout the day to block out an hour for lunch. Working from home can often subconsciously make people eat at their desks or not take the designated time away from work, so taking that time away to relax and eat is important. During my lunch break, I took my dog for another quick walk to the park, played some fetch, and enjoy the sunshine!
1:00 PM
After completing a few more tasks on my to-do lists which included planning for Q4 marketing development activities, I attend a meeting with the Senior Partner Sales Manager for ANZ. A large proportion of my role includes working closely with various people and partners to execute activities across ANZ, these include in-person/online events, Telecommunications, and digital marketing activities. In this meeting, we update our Spend & Return and lead report spreadsheet, so we can track how our activities and partners are traveling. 
1:30 PM
One of the best things I've learned about Adobe is it strives for connectedness. Today, APAC organised a virtual event called 'Unplug & Play" which allowed us to set aside a couple of hours to invest in self-development and promote team engagement, have team recognition, and celebratory moments. This event consisted of 45 employees. We got to dress up as 'superheroes' and engage in virtual games for example escapes rooms. Being relatively new to the company and not having that face-to-face contact, I value these team activities as I can connect and get to know Adobe employees across APAC. Another plus is that we got some delicious snacks too, YUM!
4:00 PM
After the virtual event, I catch up with the Distribution & Annuity Manager for ANZ. In this meeting, we discussed exciting ways to engage with our partners. We worked through our plans for an upcoming webinar which includes organising content and deciding on our target audience. Another discussion revolved around how we can keep our partners and customers engaged through innovative virtual ways.
5:30 PM
Around this time, I start to wrap up my day and check my calendar for tomorrow. I make sure to update my OneNote with my manager before tomorrow as this always helps clear my head for the next day ahead. 
5:31 (get it, because I'm 1 minute away from home)
Once out of the office, I cook dinner and unwind by playing with my dog, watching MasterChef, have a cheeky glass of wine, and face-timing my friends!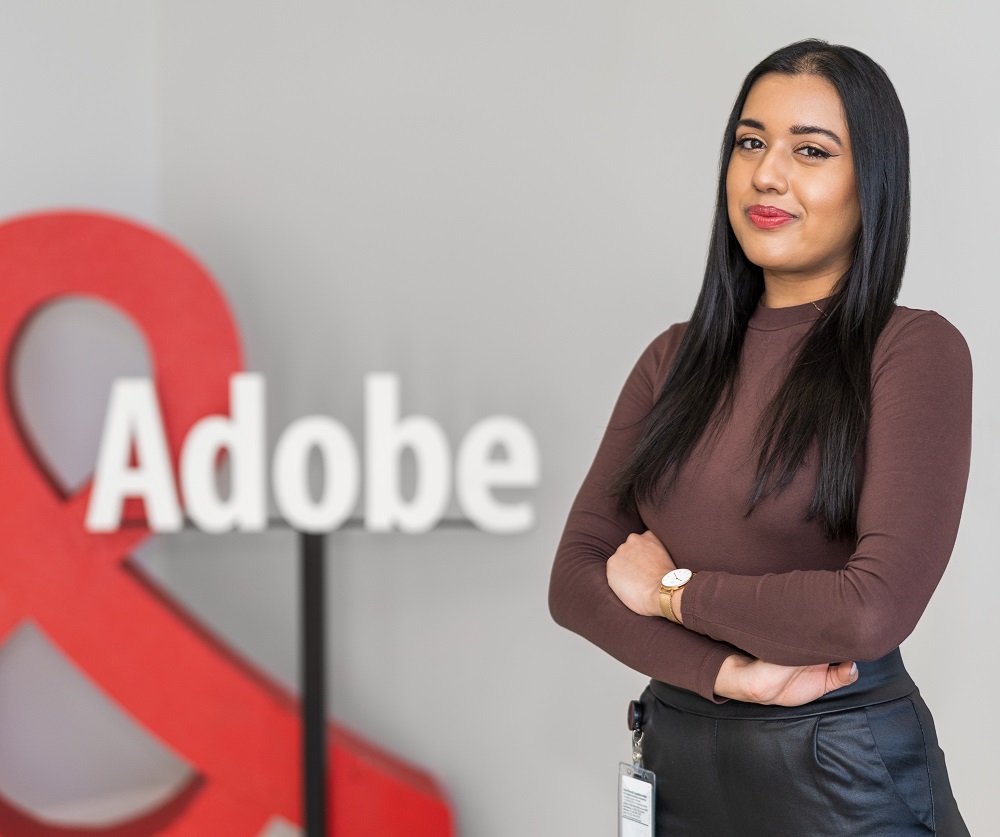 Dash Bose, Growth Sales Intern
I spend the afternoon working on my pitch and catching up on any training for the week. I like to stay on top of any training or learning opportunities that come up, so I can feel ready for any tasks or support that I can give the team. 
7:30 AM
Alarm goes off (after being snoozed twice LOL) and I'm up and ready for the day. I shower and get myself ready for a big day! Waking up early gives me enough time to be ready for the morning and plan out my tasks. I head to the kitchen and cook up some eggs…
8:00 AM
Off to the gym down the road! I usually like to walk and listen to some music to calm myself before a gym session. Today we're doing legs! I won't be able to walk after this, so good thing we're sitting in front of a desk today…
9:00 AM
I head into the Adobe office for a busy Tuesday. This is the busiest day in the office, but also the most fun because you bump into so many friendly faces! I swipe my card in and head over to Level 23, taking in the beautiful morning view over Darling Harbour!
9:10 AM
Every week I have a 1:1 with my manager to set out my goals and tasks for the week, ask any questions, receive feedback on last week's projects and catch up after the weekend! I always try to take notes and update my calendar to ensure I am on top of everything and ready for the week ahead. I also use this time to check through emails, accept any initiations or calls, and flick through the many optional enablement, training series, and cultural events that Adobe offers.
10:00 AM
As part of the Solutions team, we have a monthly call-to-action to summarise the last sales month and forecast the team and company figures for the upcoming month. This is a beneficial call to listen in on so I can understand my team's projects for the next month, helping me in reaching out to Consultants or Account Executives and supporting them to exceed our monthly sales targets! As part of the Customer Journey team, these meetings help us understand what the other teams are working on, so we can always partner with the data and insights or commerce team if we need assistance with our projects.
11:00 AM
Coffee time!!! One of my favourite parts of the day is going for a coffee run downstairs with some of the other coffee-drinker interns! It took us about a week to find the best coffee place in Darling Park and its surrounds (shoutout to Aroma and Socialite). We also love when there're snacks up on Level 27! Today, there was a little morning tea prepared for the interns and grads, where we bonded and networked while enjoying delicious treats…
11:30 AM
After that coffee fix, I work through my weekly tasks, prioritising the most important tasks and ticking off my list as I work through them. At the moment, I am working on a super exciting pitch for a potential client. I spend this time researching the industry and company, then schedule a time to talk to my buddy (a graduate on my team who guides me through my projects) and any other members of my team who can support me. I check Outlook and can easily see who has time to meet this afternoon, before scheduling a Teams call.
12:30 PM
Around 12:30, the office goes instantaneously quiet. It's as if everyone decides 12:30 is the best time for lunch… I head downstairs to meet up with the other interns and we head down to the food court in Darling Quarter. This is a super nice way to check in with each other and catch up on how the week is going! We then head back upstairs and chill on Level 26, where there is table tennis and other fun games that we can unwind on!
1:30 PM
I spend the afternoon working on my pitch and catching up on any training for the week. I like to stay on top of any training or learning opportunities that come up, so I can feel ready for any tasks or support that I can give the team. I also plan out any other tasks for my manager, such as organising customer outreach events and routine checking my team's work or contacts so we're ready to take on Q4!
2:30 PM
Every week we have a weekly team meeting where we track progress on sales deals and allow the Account Executives to update the team on their deals. It's so interesting learning the different approaches each Sales member adopts when securing a deal and how they overcome any challenges. It also allows the team to communicate and offer advice to each other to ensure we are on track for our quarterly goals.
3:00 PM
My buddy and I have a weekly catchup and I use this time to ask any questions about the company, my team, the projects or training. We discuss how we can best approach planning for the upcoming customer event, and how we can best deliver our pitch in the next meeting.
4:00 PM
I jump on a call for planning a special project for our company's All-Hands meeting. This is a special event where everyone in the company, from India through Japan to Australia, virtually meet up to come together as one and catch up on the company's progress and regional statistics. For the next All-Hands, some of the interns and grads are putting together a fun little video to be presented to the whole region. This is a great way to showcase our creative side and show off all of Adobe's products and how they enhance the modern age through a digital experience. These little offside projects always come up and give us a chance to work outside our team with people from all over the company, whether it be Data and Insights, Marketing, Legal or Engineering team!
5;00 PM
I finish up my tasks for the day, and whatever I haven't quite finished up, before setting my agenda for tomorrow. I then head home and go for a sunset walk. I use the rest of the night to unwind, catch up with friends for dinner, or catch up on any university work, so I'm ready for another day at Adobe!