Company Overview
Website: https://colescareers.com.au/au/en/studentandgraduates
Coles Group
With over 2,500 locations across Australia and as part of a team of over 120,000 team members working at the heart of the nation, we look to Coles graduates to play a key role in delivering our strategy as we journey towards our vision of becoming Australia's most trusted retailer.
Discover Coles
Coles opened its first store in Collingwood, Melbourne in 1914, and over the course of the last century we have evolved into an iconic portfolio of leading retail brands providing Australians with everyday products including fresh food, groceries, household goods, liquor, fuel and financial services via our store network and online platforms.
In an ever-changing competitive landscape, we remain committed to our vision to become the most trusted retailer in Australia and grow long-term shareholder value. Becoming the most trusted retailer in Australia means we are reliable and responsible, and delivering on our purpose to 'sustainably feed all Australians to help them lead healthier, happier lives'. This is why we exist. 
Our Values
At Coles, the day-to-day decisions and actions of our team members are guided by our four Values; Customer obsession, Passion and pace, Responsibility, and Health and Happiness.
Supported by our LEaD behaviours (Look ahead, Energise everyone and Deliver with pride) which we exhibit when we're at our best, our Values shape the way we work together to get things done.
As a team we start with diversity, and we thrive with inclusion. We're obsessed with building a workplace where everyone is included, feels connected and can belong – and where our team are healthy, happy and can be their authentic selves.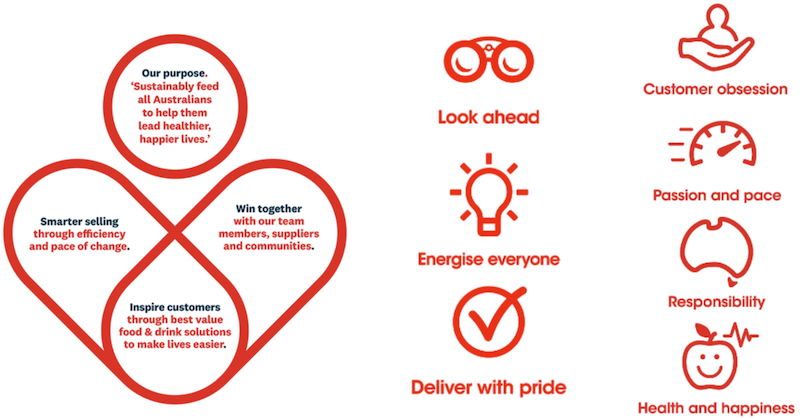 Our Sustainability strategy
We have an important role to play to sustainably feed all Australians. From food waste to a sustainable food chain, we want to be sure we're here for another century, creating jobs, supporting our suppliers and making a positive difference in our local communities and to the 21 million customers who shop with us each week.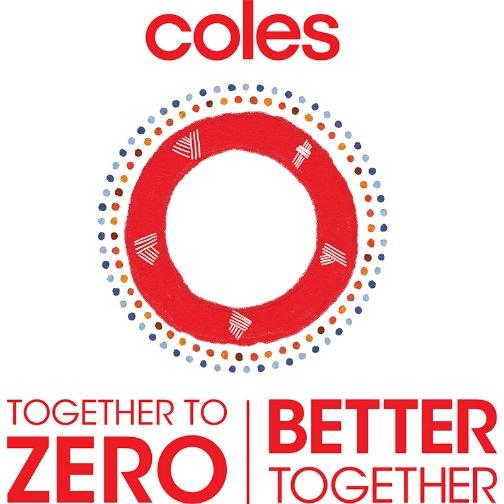 To deliver on our ambition to be Australia's most sustainable supermarket, we know that we must continue to reduce our environmental impact.
Our sustainability strategy has two pillars within it, Together to Zero and Better Together. Our key ambitions under Together to Zero, are Together to zero emissions, Together to zero waste and Together to zero hunger. Better Together recognises that when we work together, we can make a real difference to our team, our suppliers, our customers and to the communities in which we live and work.
To stay up to date on our Graduate Programs, key dates and information sessions, follow our socials:
Application Process
Apply Online


It's simple to apply for the Coles Graduate Program! There are 4 stages to the recruitment process, and we will keep you informed at each stage of the process.

If you have any questions during the process, please drop us a note at emergingtalent@coles.com.au and include in the subject line and the Function of the Graduate Program you are applying for. Applications for our 2024 Store Support Centre Graduate Program are now OPEN.

If you're interested in applying, please complete our online application form here.

This helps us capture information about your background, experiences, and skills. We want to hear why you are the right fit for us! Make sure you check to see that you are eligible for the program before completing your application.

Completing an application form will take you approximately 30 minutes, and once our applications close, you can expect to hear an update on your application within 5 days.

Applications close Sunday 2nd April.

Online Assessment


This stage of the recruitment process helps us understand more about who you are. Not just your skills but your preferred ways of working and how you approach certain situations. It also provides you with an opportunity to see what the types of situations are you could expect to experience when joining the Coles Graduate Program.

This online assessment should take between 45-60 minutes to complete, and you can expect to hear an update in the next 2-4 days following the scheduled deadline.

Online assessments will occur week commencing Tuesday 4th April.

Video Interview


The video interview takes place online where you will record your responses to a range of questions for us to review. It allows us to get a better understanding of who you are and your communication style. We will be looking to understand why you have applied to Coles, and several competencies that we want to see in our future graduates!

The video interview will only take 15 minutes to complete, and you can expect to hear an update within three weeks as our team reviews each video interview.

Video interview will occur week commencing Friday 14th April.

Discovery Centre


The Discovery Centre gives us the chance to meet you and an opportunity for you to interact directly with us! You will participate in a range of activities during the session, but most importantly, we want to ensure you walk away from your time with us with an impactful experience where you gain some valuable insights and understanding of yourself, and of Coles.

Our Discovery Centre will be a 3-hour session and look to provide you with an update following your attendance in the following week.

Discovery Centres will occur week commencing Monday 15th May. Coles Group has no active opportunities at the moment. See who's currently hiring with our Job Search!
Our most recent hiring trends